A well-known Colorado marijuana attorney was arrested Wednesday for smoking marijuana in public and disobedience to a lawful order at a Rockies game.  If there's a lesson to be learned here is about attorney's.  This has nothing to do with legalizing marijuana, freedom, nor the positive affect of making the free enterprise system work for marijuana.  This is about a guy who has taken sides in the past against the police; albeit for their many wrongs, supports Democrats (Biden), probably in favor of gun control, and is an attorney accustomed to using the system, his credibility, clout, legal rhetoric, and people of influence to get his way.  Sounds like he was showing off to a (good looking) woman and couldn't keep his mouth shut.  There might have been something the policeman did or said to really annoy him, but he really made a big mistake this time.
Public consumption of marijuana in Colorado is punishable by up to 15 days in jail or a $100 fine.  Robert Corry is however an attorney, so no need to worry about him, but clearly he's been a warrior for a good cause and it's too bad if his effectiveness will be diminished going forward.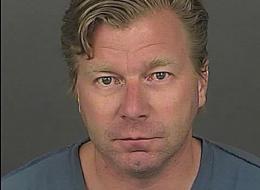 The following article by John Ingold was published by the Denver Post September 27, 2013:
Robert J. Corry, the marijuana activist and attorney who handed out free joints in Denver's Civic Center park earlier this month, was arrested Wednesday for smoking marijuana in public during the Rockies game.
According to a police report, Corry and a woman were seen smoking a joint between a gate and the concourse at Coors Field when officers approached. An officer asked Corry to hand over the joint, and Corry responded, "No, I don't have to, it's legal," according to the report.
Corry also cursed at officers, refused to comply with orders and told one officer, "You're a stupid cop. You are going to make this easy for me. You can't search me. It's only a citation," the report states.
Corry, 46, was arrested on suspicion of public consumption of marijuana and disobedience to a lawful order, according to the report. He could not immediately be reached for comment.
Corry is among the most prominent marijuana attorneys in the state, helping to draft Colorado's successful marijuana-legalization ballot initiative and representing marijuana advocates in several significant legal victories.
He has had previous trouble with the law, including a sexual assault charge in Jefferson County that he pleaded down to third-degree assault and an arrest in June on allegations he smashed the window of a recreational vehicle.
In the Wednesday arrest, Corry told an officer, "I bet I am a big trophy for you," according to the report. When the officer said he didn't know who Corry was and Corry explained, the officer responded that Corry should have known it remains illegal in Colorado to consume marijuana in public. Corry replied, "yeah," the report said.
The woman cited along with Corry for public marijuana consumption, 33-year-old AmberLee June of Salt Lake City, told police she happened to be sitting next to Corry at the game when the two started talking about marijuana and he offered to share a joint.
"He smoked marijuana and he passed it to me," she wrote in a statement to police, included in the report. "I took a puff and passed it. After all, I was in Colorado."
John Ingold: 303-954-1068, jingold@denverpost.com or twitter.com/john_ingold